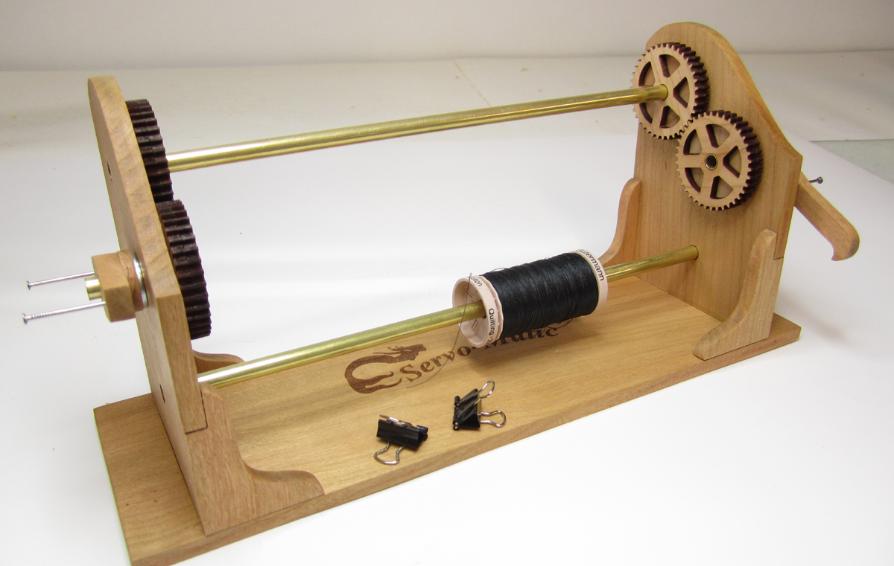 The affordable Syren Serv-o-Matic
ship model rope serving machine.
Syren Ship Model Company is excited to announce the affordable Syren Serv-o-Matic. We paid close attention to some popular design features while trying to keep it as simple as possible. Not recommended for motorizing...
It is a very handsome machine that will last many, many years. It works beautifully and has a smooth operating motion. The production kit is laser cut from solid 1/4" thick Cherry wood. With 1/4" thick laser cut gears.
This is a very sturdy machine.
Some features
- Serve any length of rope while the wide space between uprights is roomy so you can get your hands in there easily.
- Note how the bar connecting the two sprockets was moved up and back. This is usually not the case on other serving machines. Its usually below the rope being served. This gets it out of the way so your hands don't hit it. It also gave room for the brass tube below it which holds any size spool of serving thread. This has also been moved back and out of the way. This made it possible to lower the gear with the rope being served, which allows you to rest your hand on the work surface to steady yourself as you serve the rope. Its more comfortable this way.
- Note the shape of the crank...because the machine and gears turn easily and smoothly it can be cranked with just your index finger. No need to try and grip those tiny crank handles on other machines. For you lefties out there...just put it on the other side of the machine during assembly. An additional $2.50 will be charged for shipping due to the weight and size of the package.
-Instructions are downloadable only. There are no printed instructions, which was done in order to keep the costs down for this machine.