Precision Milled Alaskan Yellow Cedar
Wood Sheets for the Ship Modeler
If it is listed as in stock, it will ship out immediately!!!
No more waiting or downtime, spend more time building your model.
Milled Alaskan Yellow Cedar wood sheets from the Syren stash. We go through a lot of wood while making our products and keep quite a bit on the shelf. All of our milled sheets are 4" to 4 1/2" wide and 14-15" long. We stock sheets in this size because its what we use on our laser cutters to make all of the ship model parts and accessories for you. We are more than happy to make them available for your ship model project.
PLEASE MAKE NOTE: An additional shipping charge of 25 to 50 cents will be applied to each wood sheet purchased. These sheets are larger and much heavier than our other products. This is especially true when shipping orders outside of the USA.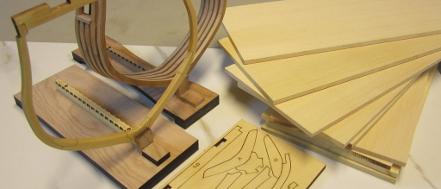 If you are buying Alaskan Yellow Cedar sheets to rip your HULL or DECK PLANKING STRIPS, don't buy our wider sheets. You need to buy our 2" Planking Sheets because they were milled specifically for ripping planking strips. They are cut from our 2 x6 billets from the other edge so the wood grain for your strips will be perfect. Just $3.50 each.