Please no hoarding of rope during the pandemic!!! A strict limit of a maximum of 5 packages of any size rope will be strictly enforced. Should anyone place an order with more than 5 packages of any one size of rope , it will be cancelled to ensure that everyone gets an opportunity to buy them while stuck at home in their workshop!!! THANK YOU!!!
Scale Rigging Line for Ship Models
Syren Ship Model Company supplies miniature rope for rigging ship models.
You will find many sizes available in Tan, Light Brown, and Dark Brown colors. A tan rigging line for un-tarred rope and dark brown for tarred rigging is shown in the photos. Scale rope is packaged in 20 foot lengths (6 meters). This rigging line will not unravel.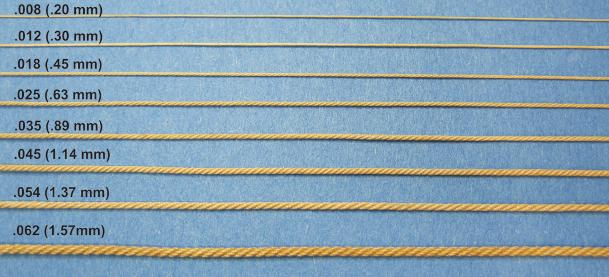 We recommend that you only remove the rope from its package when you are ready to use it. In fact its best to take each pack and carefully wrap it around a cardboard tube or wooden spool to prevent it from getting tangled. The rope is carefully coiled when being packaged but can easily tangle if it isnt wound around a spool or tube just before use.
Click on the color category below to see all of the sizes available for each color